UN police in Haiti accused of sexual abuse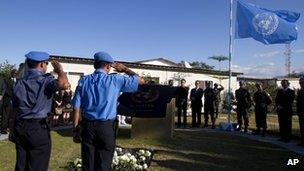 The United Nations says it is investigating two alleged cases of sexual exploitation of children by UN staff in Haiti.
UN spokesman Martin Nesirky said one of the cases involved UN police in the capital, Port-au-Prince, the other allegedly happened in Gonaives.
He did not give the nationality of the UN police suspected.
The allegations come just four months after Uruguayan peacekeepers were recalled after being accused of rape.
"The UN Secretariat regrets to confirm that, on 16 January 2012, the UN mission in Haiti, Minustah, alerted headquarters about two allegations of sexual exploitation and abuse involving minors in Haiti," Mr Nesirky said.
The suspected officers have been removed from their duties while the investigation is under way.
Mr Nesirky said the UN was "outraged" by the allegations and would take its responsibility to deal with them very seriously.
In September, Uruguay ordered the recall of several of its peacekeepers from Haiti, amid allegations that they were involved in the sexual assault of a young local man.
The abuse was alleged to have taken place at a UN base.
UN peacekeepers have also been blamed for starting a deadly cholera epidemic in Haiti in 2011.
Last year, clashes broke out at several protests with Haitians demanding the total withdrawal of UN troops and police from the country.
The UN force first arrived in Haiti in 2004 to deal with the instability which followed the ousting of President Jean-Bertrand Aristide.
Its mandate was extended after the devastating earthquake which struck Haiti in January 2010.
In October 2011, the UN Security Council agreed to withdraw around 3,000 troops and police from its mission in Haiti, returning the numbers to what they were before the quake.
Related Internet Links
The BBC is not responsible for the content of external sites.