Venezuela arrests Colombia militia boss 'Martin Llanos'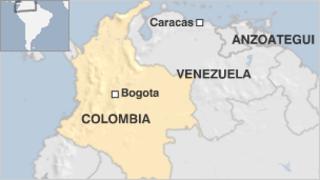 Colombian President Juan Manuel Santos says one of the country's most wanted paramilitary leaders has been captured in Venezuela.
Mr Santos said that Hector German Buitrago, alias Martin Llanos, had been seized in eastern Venezuela.
Martin Llanos, 44, is believed to be the head of a right-wing paramilitary group that refused to demobilise.
He is suspected of crimes including murder, kidnapping and drug trafficking.
President Santos also confirmed the earlier arrest of the suspected paramilitary leader's brother, Nelson Buitrago Parada, alias Horse.
Martin Llanos's father, Hector Jose Buitrago, was arrested by Colombian police in 2010. He had more than 20 arrest warrants against him for alleged killings and drug-trafficking.
"Martin Llanos played the leading role in one of the bloodiest wars in the Llanos Orientales (region) and left hundreds, I'd say thousands, of victims," President Santos told reporters.
He said Venezuela would hand over Martin Llanos, along with his brother, on Thursday.
Venezuelan Interior Minister Tareck El Aissami said the pair had been arrested in the state of Anzoategui, but gave no further details.
President Santos said Colombian police had been conducting "intelligence work" against Martin Llanos since 2010.
Martin Llanos was regarded as the head of a bloc of the United Self Defence Forces of Colombia (AUC).
The AUC was an umbrella group for various right-wing paramilitary groups set up to fight Marxist guerrillas in the 1990s.
Most blocs of the AUC have since demobilised but some, like the Centaurs, carried on and became heavily involved in drug-trafficking.