Talks to end Brazil police strike in Bahia break down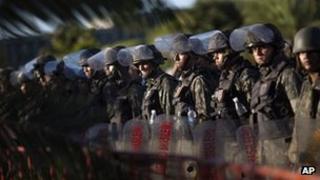 Talks to end a week-long police strike over pay in the Brazilian state of Bahia have ended without agreement.
Some 300 officers remain holed up in the state legislature in the capital, Salvador, with the building surrounded by soldiers and federal police.
The strike has led to a spike in crime, with more than 100 murders in Salvador.
The stoppage, ruled illegal by the courts, comes just days before the city is set to welcome tens of thousands of tourists for carnival celebrations.
Bahia tourism officials insist that the partying will go ahead as scheduled.
But the Brazilian Association of Travel Agencies says some 10% of visitors have cancelled their trips.
Salvador, Brazil's third biggest city, is one of the venues for the football World Cup in 2014.
The Bahia government says about one third of the 30,000 state police officers are involved in the industrial action.
The officers, who say they are underpaid and facing rising crime, are seeking big pay rises. They are also calling for an amnesty for the walkout.
Police officers currently earn between $1,100 and $1,330 a month in Bahia.
Bahia Governor Jacques Wagner says he has a limited budget but pay rises could be phased in over three years.
He has insisted that striking officers who commit crimes will be punished.
"The right to protest is guaranteed but not the right to offend, to prey on, or to threaten people," Mr Wagner told Brazilian television.
Some officers have been arrested for allegedly organising roving gangs and robbing police cars, the Associated Press reported.
However, violence has dropped since some 3,000 soldiers and federal police were sent to patrol the streets at the weekend.
Authorities in Rio de Janeiro are also braced for a possible strike by police officers, firefighters and prison guards starting on Friday.
They all complain of low pay and poor working conditions.
Rio's government has offered a 39% rise over two years, which is due to be voted on by state lawmakers on Thursday.
Rio's Carnival celebrations officially get under way on 18 February.