Striking Brazilian police leave occupied building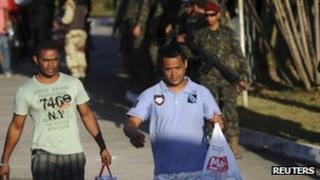 Brazilian police officers have ended their 10-day occupation of the state assembly in the state of Bahia.
But strikers said they and fellow officers would continue their stoppage over pay.
More than 200 military police had been in a stand-off with troops and federal police who surrounded the building in the state capital, Salvador.
The strike unleashed a crime wave, fuelling fears over next week's massive street carnival in Salvador.
The officers who had been inside the state assembly began leaving the building early on Thursday.
Marco Prisco, seen as the strike leader, and another officer were arrested.
They have been accused of inciting other officers to commit vandalism.
A lawyer for the striking workers told the Folha newspaper that they had decided to give themselves up amid worsening conditions, with electricity and water supplies cut off.
But police and their supporters said that the stoppage was still on.
Businesses affected
The strike, ruled illegal by the courts, came just days before Salvador is set to welcome tens of thousands of tourists for carnival celebrations.
Local businesses say their takings have already been affected.
The Bahia government said about a third of the 30,000 state police officers were involved in the industrial action.
Crime has risen and Salvador has seen some 137 murders over the past 10 days, authorities say.
The officers, who say they are underpaid and facing rising crime, are seeking big pay rises.
Bahia Governor Jacques Wagner says he has a limited budget but pay rises could be phased in over three years.
He has insisted that striking officers who commit crimes will be punished.
Police forces in other states have also been complaining about pay levels.
Analysts say one of the problems is the failure to agree a national basic salary for police officers and firefighters. leading to wide discrepancies.
A military police officer in Brasilia starts on the equivalent of some $2,300 (£1,450) a month, nearly double the salary of an officer in Bahia.
In Rio de Janeiro, the state assembly is due to vote later in the day on proposals to increase the wages of police and firefighters.
Police officers have warned they could begin industrial action from Friday, with carnival just a week away, if the increase is not approved.