Brazil commission approves Fifa World Cup law draft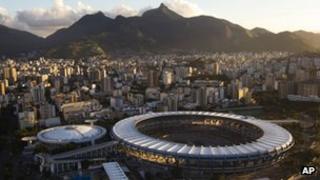 A Brazilian congressional commission has partially approved legislation covering the 2014 World Cup.
But sticking points remain, including the insistence by Fifa that alcohol, currently banned, be sold at venues.
Fifa, football's world governing body, has pressed for the law to be passed soon but it still needs to go before the full Congress.
The controversy and delay over the bill come amid continuing concern over the pace of preparations for the event.
Brazilian lawmakers had repeatedly delayed voting on the World Cup Law, which would set out the legal framework for the tournament.
The legislation is supposed to enshrine the commitments made by the Brazilian government when it won the right to host the event.
But critics of the bill say it seeks undue influence over internal Brazilian matters.
The insistence on alcohol being sold has caused controversy as it is currently banned in Brazilian stadiums for safety reasons. The country's health minister has urged Congress to maintain the ban.
TV rights
Fifa insists it must protect the commercial rights of its sponsors who help fund the cost of staging the World Cup. Brewer Budweiser is a big Fifa backer.
The text approved by the commission on Tuesday also sets out which cut-price tickets senior citizens and students will be entitled to.
Another key issue has been to what degree the Brazilian government is liable for costs should the tournament be disrupted, be it through natural disaster or terrorist attack.
The legislation still needs to be passed by the lower house and the Senate and signed into law by President Dilma Rousseff.
Meanwhile, broadcaster Globo has bought Brazilian media rights for the 2018 and 2022 World Cups, Fifa says.
It did not say what the agreement was worth but Globo has had the rights to broadcast World Cups since 1970.
Fifa earns about 90% of its income from deals tied to the World Cup.