Peruvians protest against illegal mining crackdown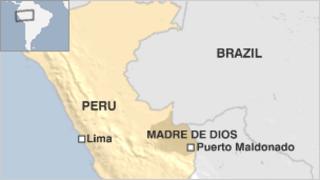 Several thousand people in Peru's eastern Amazon have taken to the streets to call for the repeal of new sanctions against illegal gold mining.
People operating mines illegally or breaking environmental rules now face up to 10 years in prison.
Miners in Madre de Dios, one of Peru's main gold-mining regions, say the law will put thousands out of work.
But the government says the sanctions will encourage miners to get permits and stop polluting the environment.
The provincial capital of Puerto Maldonado was once again the scene of protests on Monday, when some 5,000 demonstrators took to the streets and set up roadblocks.
The miners and their families are demanding that the government overturn decrees that have toughened sanctions against illegal mining.
They argue that the government is clamping down on wildcat miners instead of helping them to obtain authorisation.
Illegal miners have been trying to get the right permits, said spokesman Jose Carlos Bustamante.
"But (we) couldn't because of bureaucratic hurdles for the past three years."
The miners accuse the government of wanting to hand over mining concessions only to large multinational companies.
Peru is one of the world's major gold producers and high prices have sparked a boom in recent years.
The government says large areas of jungle have been destroyed by illegal mining and large portions of the area's waterways show high levels of mercury, used in the mining operations.
An estimated 50,000 miners do not have a licence to operate.