Cuba's Ladies in White released after weekend arrest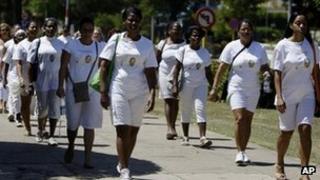 Cuba has released all the members of the Ladies in White dissident group who were detained over the weekend ahead of a visit by Pope Benedict XVI.
Group member Magaly Nurvis Otero Suarez told the BBC that all of the 70 or so dissidents were now free, including their leader, Bertha Soler.
The Ladies in White campaign for the release of Cuba's political prisoners.
They say the authorities have increased pressure on them recently. The US administration condemned the arrests.
US National Security Council spokesman Tommy Vietor said they showed "the disdain of the Cuban authorities" for people's rights.
The Ladies in White (Damas de Blanco), formed nine years ago, usually attend Mass together every week before staging a protest march calling for the release of all political prisoners.
The Havana government says they are paid by the US to undermine Cuba's revolution.
Papal visit
Nineteen of the group's members had been detained on Saturday evening while trying to stage a march in central Havana. Three of them were subsequently released without charge.
Then on Sunday morning, police detained another 36 members of the group - including Ms Soler - as they made their way to attend Mass in Havana.
After the service, 22 women and two men were arrested as they marched to the city centre, trying to go beyond a route that has recently been tolerated by the authorities. That group was also released without charge after several hours.
Ms Soler said all those detained were now free and that a group of about 30 women who had travelled to Havana from eastern Cuba were sent back to their provinces on a police bus.
The BBC's Sarah Rainsford in Havana says that ahead of the Pope's visit protesters have become more vocal and the government seems to have reacted accordingly.
The release comes a week before Pope Benedict is due in Cuba. During his visit he is expected to raise the issue of human rights with the Communist government.