Mexico ex-President Miguel de la Madrid dies at 77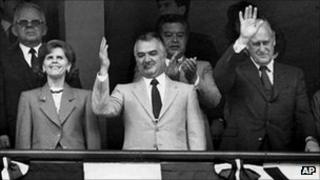 Former Mexican President Miguel de la Madrid has died at the age of 77 after a long illness.
Mr de la Madrid led Mexico for six years from 1982-1988, introducing free-market reforms in response to a severe economic crisis.
But his administration was criticised for its response to the huge earthquake that hit Mexico City in 1985.
Current President Felipe Calderon expressed "profound sadness" at the news of his death.
He said Mr de la Madrid had confronted "hard adversities" during his rule.
A lawyer and economist, Miguel de la Madrid was a member of the Institutional Revolutionary Party (PRI), which ruled Mexico for most of the 20th Century.
He worked his way up through the party hierarchy, serving as a minister under his predecessor, Jose Lopez Portillo.
Austerity
But once in office, he broke with the PRI's traditional policies by promoting free-market economic reforms.
He privatised hundreds of state-owned companies and promoted foreign trade and investment.
Faced with soaring inflation and mounting foreign debt, he implemented stringent austerity measures, cutting wages and laying off many public sector workers.
His biggest challenge came in 1985, when Mexico City was struck by a magnitude 8 earthquake that killed more than 10,000 people.
His government was widely criticised for its slow response to the disaster.
His time in office saw growing political opposition to the PRI, with some left-wing members breaking away to form the Democratic National Front.
It ended in 1988 with intense controversy over the election of his successor, PRI candidate Carlos Salinas, in a vote that was widely believed to have been fixed.