World Cup 2014: Brazil Senate snubs Fifa's Valcke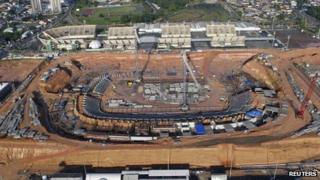 Brazil's Senate has cancelled a meeting with Fifa secretary-general Jerome Valcke, who last month criticised its preparations for the 2014 World Cup.
The Senate said Fifa president Sepp Blatter should go in person to discuss a bill setting out the regulatory framework for the tournament.
Meanwhile, the Brazilian government has said construction work on all 12 World Cup stadiums is on schedule.
But it said some of the work was running over-budget.
Mr Valcke caused outrage in Brazil last month when he said the country needed "a kick up the backside" and appeared more interested in winning the World Cup than hosting it.
He and Fifa, football's world governing body, quickly apologised for the remarks.
But Brazil called his comments "unacceptable" and said it no longer wanted to deal with him.
Controversial law
The Brazilian Congress is currently considering a World Cup bill setting out regulations required by Fifa for the tournament.
Some of the conditions are controversial, including alcohol sales in stadiums and limits on discounted tickets for students and pensioners.
The congressional commission discussing the bill was was expected to meet with Fifa next week.
But the Senate's press office said the meeting had been postponed after Fifa said it was sending Mr Valcke.
"We do not accept Fifa's caretaker. What was approved was a meeting with Blatter not with his aide," the committee chairman Roberto Requiao told O Globo's G1 website.
"If it was up to me he would get a kick in his backside," he was quoted as saying.
A Brazilian government report has said that construction and renovation work at stadiums in all 12 host cities is on schedule.
With 800 days to go until the tournament opens, it said five stadiums were already 50% complete.
The Brazilian government is investing billions of dollars in stadiums, as well as in transport infrastructure such as roads and airports.
It has always said it is determined to deliver a successful World Cup.
The 2014 World Cup will be the first in South America since Argentina hosted the tournament in 1978 and the first in Brazil since 1950.