Suriname parliament gives President Bouterse immunity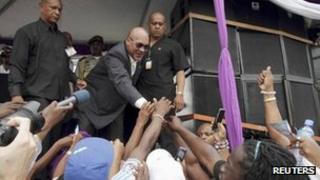 Lawmakers in Suriname have passed a law under which the president has immunity for alleged violations committed under his earlier military rule.
The parliament, dominated by MPs allied to President Desi Bouterse's ruling coalition, backed the bill by 28-12.
Mr Bouterse, who was elected in 2010, is among those on trial for the murder of 15 political opponents in 1982 in the former Dutch colony.
The Dutch government said stopping the trial would be "totally unacceptable".
"The law must be allowed to run its course," Dutch Prime Minister Mark Rutte told reporters, adding that there would be consequences for Suriname.
The Dutch ambassador has been recalled for consultations.
Rights groups had denounced the bill and urged MPs not to back it.
Mr Bouterse, who has been been a powerful force in Suriname, headed two coups, in 1980 and 1990. He stepped down as military chief in 1992.
'False legal basis'
The president - who denies the charges - has always refused to attend the court sessions, and it is unclear whether the prosecution will now proceed.
"We did this in the belief that the people stood behind us and will stand behind us," said Ricardo Panka, an MP belonging to the president's Mega Combination coalition.
But opposition MP and former president Ronald Venetiaan told parliament the bill "underlines lawlessness and gives lawlessness a false legal basis".
The bill was passed after three days of debate.
Local rights groups say they plan to hold a march on Tuesday in protest.
In 1999, Mr Bouterse was convicted in absentia of drug trafficking by a court in the Netherlands, but cannot be extradited under Surinamese law.
Suriname gained independence from the Netherlands in 1975.