Peru trapped miners: Rescue operation 'could take days'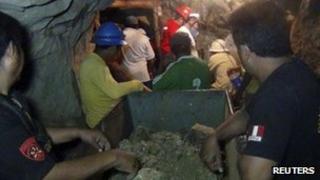 The operation to free nine Peruvian miners trapped underground by a rockfall at a depth of more than 200m (650ft) could take up to three more days, the government has said.
Fresh collapses at the Cabeza de Negro mine are responsible for the delay, said cabinet chief Oscar Valdes.
The miners, who have been trapped since Thursday, are not injured and are being given oxygen and drinks through a tube.
The mine is located in Ica, some 300km (185 miles) south of the capital, Lima.
Rescuers, including police officers and firefighters, have communicated with the miners, who are aged between 22 and 59, through the tube and although none of them is hurt, some are feeling anxious or desperate.
Heavy machinery
An improvised camp, comprised of the miners' family members and the emergency services, has sprung up near the mine as the rescue operation has unfolded.
However, as of yet, rescuers have been unable to get heavy machinery to the mine.
Rescue worker Erin Gomez told the AFP news agency: "They're alive, but we can't use diggers because of the difficulty of getting them up the steep hill.
"Due to the cave-ins late Saturday we don't know exactly the distance between rescuers and the miners but communication has been maintained constantly."
Besides Mr Valdes, the government has also sent Peru's Mining and Energy Minister Jorge Merino to the scene.
Cabeza de Negro is one of Peru's many wildcat mines, where miners take high risks to extract copper and other metals.
Last year, more than 50 people died in accidents in Peru's silver, gold and copper mines.