Chavez says 'doing well' after latest cancer treatment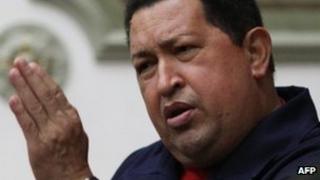 Venezuelan President Hugo Chavez says his battle against cancer is "advancing" after he returned from a third round of radiotherapy in Cuba.
On arrival, Mr Chavez went to the presidential palace where he and political allies discussed the coup that briefly ousted him 10 years ago.
The president is expected to have two further rounds of treatment.
It is not yet known whether Mr Chavez will attend this weekend's Summit of the Americas in neighbouring Colombia.
"It depends on his health, and depends on the doctors," Colombian President Juan Manuel Santos said.
President Chavez returned from Havana late on Wednesday.
Meeting with aides, Mr Chavez referred to events in 2002 when he was ousted for a couple of days from the presidency.
The coup failed, he said, because of the unarmed Venezuelans who took to the streets to support him.
And he urged his supporters to "strengthen their unity" ahead of the presidential election later this year.
"We have less than six months before 7 October, let's get ready," he said.
"We cannot let our guard down for even a moment in order to guarantee peace in Venezuela."
Mr Chavez, in power since 1999, is seeking another six-year term to continue his programme of "socialist revolution".
He is facing a strong challenge from opposition candidate Henrique Capriles Radonski.
President Chavez had surgery in February to remove a second tumour from his pelvic area.
The exact nature of his cancer has not been disclosed.