Peru rules out talks with Shining Path over hostages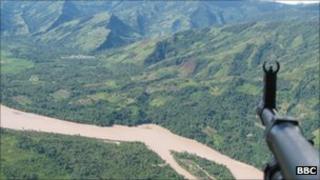 The Peruvian government says it will not negotiate with Shining Path rebels, who kidnapped a group of gas workers in the south of the country on Monday.
Peruvian Defence Minister Alberto Otarola said he had sent 1,500 troops to the area in an attempt to free the hostages.
Officials said the rebels had demanded $10m (£6m) in ransom.
After conflicting reports, Peruvian officials put the number of those kidnapped at 42.
Justice Minister Juan Jimenez told a local TV station that the government did "not negotiate with terrorists, the government acts within the law".
"Setting up a security zone is necessary in order to rescue these people alive," Mr Jimenez said, confirming the deployment of extra troops to Kepashiato in the southern region of Cusco.
'Totally defeated'
The rebels abducted the workers on Monday morning in the Apurimac and Ene valleys, the last remaining stronghold of the Shining Path rebels.
The Maoist group posed a major challenge to the Peruvian state in the 1980s and early 1990s, but is now reduced to small gangs involved in cocaine trafficking.
Last week, Peruvian President Ollanta Humala said the Shining Path had been "totally defeated" in the Alto Huallaga Valley, once one of its key regions.
The hostages, who are employees of Swedish company Skanska, Peru's Construcciones Modulares and Peruvian gas company Coga, were building a new plant for gas from the huge Camisea field.
Some of their family members have asked President Humala to personally intervene to secure their release.
"We demand that the president help bring back our husbands, like he did with the miners," the wife of one of the hostages said referring to the successful rescue of nine men from a collapsed mine on Wednesday.
Defence Minister Alberto Otarola has travelled to the region to oversee the military efforts aimed at freeing the hostages.
There had been uncertainty about the number of workers being held, with some reports saying there were as many as 40, while others said that all but eight had been freed.
On Wednesday, local prosecutor Raul Duque put the number of those taken at 42.