Spain's Repsol urges talks in Argentina YPF oil tension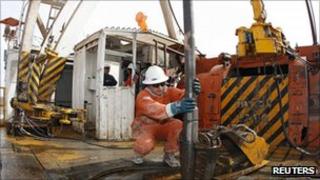 The head of Spanish oil giant, Repsol, has urged the Argentine government to enter a dialogue amid reports that its YPF subsidiary could be nationalised.
"The only way is to talk and talk," said Antonio Brufau, who has been in Argentina since last week.
YPF has come under sustained criticism from the Argentine government, which accuses it of failing to invest enough in local oil fields.
Spain and the EU have voiced concern at reports of a possible state takeover.
Repsol currently owns a majority 57.43% stake in YPF.
Leases stripped
"You've got to talk... not impose," Mr Brufau told Radio Mitre.
"Things should be taken care of in the office and by talking".
The Argentina authorities have accused YPF of not investing enough to increase its output and so lessen the need for imports, an accusation it rejects.
The company has been stripped of a number of leases, including in some of the biggest oil fields in the country.
In recent weeks, speculation has grown that the Argentine government is planning to force through a bigger state role in the firm.
However, there has so far been no clear idea of how the government would achieve this.
The uncertainty grew after an expected announcement by President Cristina Fernandez de Kirchner on YPF's future last week did not materialise.
Big reserves
Spain has warned Buenos Aires that a takeover of YPF could have consequences for Argentina's international image.
The European Commission, the EU's executive arm, has made it clear it backs Spain's position.
"We hope Argentina respects its international commitments on the protection of foreign investments on its soil," commission spokesman Olivier Bailly told reporters.
In November last year, YPF, which was privatised in 1993, announced a major find of 1bn barrels of shale oil.
Argentina has some of the world's largest reserves of shale oil and gas, hydrocarbons trapped deep underground.
It is ranked number three in the world in terms of recoverable resources, behind China and the US, according to the US Energy Information Administration.