Farc rebels kill eight in Colombia attacks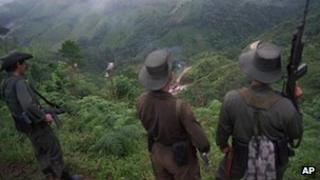 The authorities in Colombia say left-wing Farc rebels have killed eight people including an infant in two separate attacks.
In the first the rebels killed five soldiers in an army patrol in the south-west of the country.
Later a baby and her parents died after home-made mortars were fired at a police station in Puerto Rico in Caqueta state, also in the south.
The mortars missed their target, hitting the family's house.
The government said a sergeant and four other soldiers died in the attack against the patrol.
Earlier this month one of the Farc rebel leaders, Ivan Marquez, said the group remained ready for battle, despite earlier suggestions that it was ready for talks with the government.
The Colombian President Juan Manuel Santos said last month that recent military strikes had weakened the guerrilla movement.
More than 60 rebels were killed in attacks in eastern Meta and Arauca province in March.
The attacks were part of a new strategy by the security forces aimed at eliminating the rebels' regional commanders and hitting their logistics and supplies.
President Santos had ordered the new strategy after the killing over the past two years of the rebels' top two commanders, Mono Jojoy and Alfonso Cano.