Cuban 'defector' actors reappear in Miami, seek asylum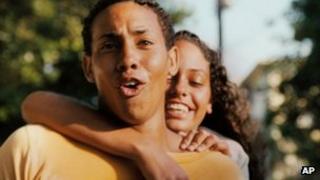 Two Cuban actors who starred in a film about defectors have themselves defected to the United States.
Javier Nunez Florian and Anailin de la Rua emerged from hiding a week after they had gone missing at Miami airport during a stop-over on the way to a film festival in New York.
Speaking on a Spanish-language TV channel in Miami, they said they would seek political asylum in the US.
Several Cuban artists have defected to pursue careers outside their country.
The two 20-year-old actors star in the film Una Noche (One Night), which depicts three Cuban teenagers trying to escape the poverty of their homeland to begin a new life in Miami.
Empty luggage
Before their appearance on Miami-based Spanish-language channel America TeVe on Friday night, they had last been seen at Miami airport on a stop-over from Havana to New York.
They told film producer Sandy Perez Aguila, who was travelling with the pair, that they would meet him at the departure gate for the New York flight, but failed to turn up.
Mr Perez told Miami police the two had gone missing, but police said he would have to wait for 24 hours before he could file a report.
Mr Perez said that when he opened their suitcases when he arrived in New York, he found them empty.
The film won three awards at the Tribeca film festival, including the prize for best actor for Javier Nunez, which he shared with another of the film's actors.
Speaking on America TeVe, Mr Nunez said he hoped he would be able to further pursue his acting career in the US.
In an interview with Reuters news agency, the pair said they had started thinking about defecting when they heard about the invitation to New York.
"In part, it's hard to leave your family and friends behind," Ms de la Rua said.
"But at the same time you do it so you can help them, there's no future in Cuba", she said.
A Miami immigration lawyer representing the two actors told Reuters he planned to file for political asylum on the actors' behalf "based on possible persecution if they return to Cuba".
A string of Cuban artists and athletes has defected from Cuba over the past few years.
In 2005, Cuban ballet dancer Rolando Sarabia crossed the border into the US. In 2008 seven members of Cuba's Olympic football team defected in Florida after a game with the US.
Last year, five members of the National Ballet of Cuba on tour in Canada decided to remain there after their performances.