Mexico probes journalist Regina Martinez's death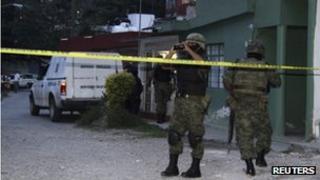 Police in Mexico are investigating the death of a journalist in the eastern state of Veracruz.
Regina Martinez was found in her home in Xalapa on Saturday, apparently beaten and strangled to death.
She was a correspondent for the weekly news magazine Proceso.
Pressure groups say Mexico is one of the most dangerous places in the world to be a journalist, with more than 40 journalists killed or disappeared since President Felipe Calderon took office.
Police had found Ms Martinez's body in the bathroom of her house after being alerted by neighbours who had noticed the main entrance door had been left open all day.
Rise in killings
State prosecutors said her body showed signs of heavy "blows to her face and body".
A spokeswoman for the Veracruz government said all lines of investigation would be exhausted, and that "the fact that she was a journalist is one of them".
Ms Martinez had been working for investigative news magazine Proceso for 10 years.
Before that, she had worked for local newspapers in the Veracruz region.
Veracruz Governor Javier Duarte has ordered an exhaustive investigation into Ms Martinez's death.
The state has seen a rise in killings in recent months.
Much of the violence has been blamed on a battle for control of drug-trafficking routes between two of Mexico's most powerful drugs gangs - the Zetas and the Gulf Cartel.
Dozens of journalists have been killed in Mexico over the past decade, but there are conflicting data on how many of them were killed as a direct result of their profession.
Pressure groups agree that whatever the exact figures, Mexico has become one of the most dangerous countries for journalists in the world.