Mexico passes law to compensate victims of crime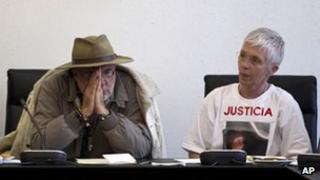 Members of Congress in Mexico have unanimously approved a bill which will provide compensation to the victims of organised crime.
The law will create a national body to record such crimes as kidnapping and forced disappearances.
It will also oversee legal, medical and financial support to crime victims.
About 50,000 people have died in drug-related violence since President Felipe Calderon began deploying soldiers to fight organised crime in 2006.
Under the law, relatives of people who have been killed or forcibly disappeared can claim for compensation, as well as those who have been kidnapped or wounded as a result of organised crime.
The law will also apply to victims of human rights abuses carried out by the security forces.
Long campaign
A national registry will be created to record crimes and set aside funds for the compensation of victims, with the maximum pay-out set at $70,000 (£43,000).
The bill was passed unanimously in the Chamber of Deputies with activists in the gallery applauding and shouting "Not one more death!".
As it has already been passed by the Senate, the law will now go to President Calderon, who has already expressed his support for the initiative.
Campaigners such as the poet Javier Sicilia, whose son was killed along with six friends last year, have welcomed the vote.
The BBC's Will Grant in Mexico City says the problem will be for victims to provide evidence of the crime committed against them.
Our correspondent says that only a very small proportion of drug-related murders are ever brought to trial and many crimes go unreported for fear of reprisals.