Hugo Chavez urges Venezuela's exit from OAS rights body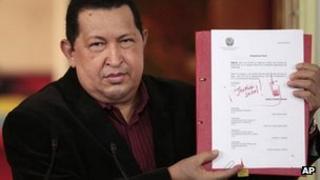 Venezuela should pull out of the Organisation of American States' human rights body, President Hugo Chavez says.
In a televised speech, Mr Chavez said the Inter-American Human Rights Commission (IACHR) was "a tool the US uses against us".
He also approved a new labour law whose provisions include shortening the working week from 44 to 40 hours.
Later on Monday, Mr Chavez flew back to Cuba for more cancer treatment.
He had further surgery in February and has been shuttling back and forth between Caracas and Havana for treatment.
"These are not easy days," Mr Chavez said before departing.
"But we are warriors in facing adversity and with faith in God, in Christ the Redeemer, and with this immense love from the Venezuelan people... we will prevail."
Opposition politicians, including presidential candidate Henrique Capriles, have urged Mr Chavez to be clear about the exact nature of his illness.
Working week
During his speech on Monday, President Chavez said he was asking a newly formed Council of State to evaluate his proposal that the country leave the IAHCR.
The Washington-based body has been critical of the human rights situation in Venezuela.
The Venezuelan government says the IAHCR's rulings have been biased and disrespectful of the country's sovereignty.
Mr Capriles, who will face Mr Chavez in October's election, said withdrawal from the IAHCR would be irresponsible.
During Monday's televised speech, President Chavez enacted the new labour law by decree.
Mr Chavez said that as well as shortening the working week, the law increases overall maternity leave from 18 to 26 weeks among other changes.
Some business and union leaders have voiced concern that there was no consultation on the legislation and that the exact details of the final text are unknown.