Colombia's Santos : Farc rebels holding Romeo Langlois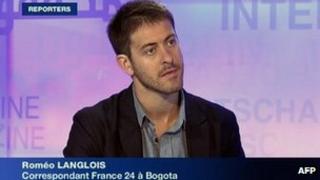 Colombian President Juan Manuel Santos says there are "clear indications" that Farc guerrillas are holding French journalist Romeo Langlois.
Mr Santos did not elaborate but urged the Farc to free Mr Langlois, who was reported to have been injured during a clash between rebels and troops.
A police officer and three soldiers were killed in the weekend raid.
Mr Langlois was accompanying troops who were on an operation to destroy cocaine laboratories in southern Colombia.
President Santos called on the left-wing guerrillas to "keep their word" that they had ended their practice of kidnapping.
"We want to tell the Farc that they should free this journalist as soon as possible, among other reasons because we understand that he is wounded," said Mr Santos.
The French authorities have said that they believe Mr Langlois, who works for TV channel France 24 and has long experience of working in Colombia, was taken prisoner.
He was travelling with the army in the southern department of Caqueta to make a documentary about the fight against drugs and illegal mining.
Reporting trips
Officials from the International Committee of the Red Cross (ICRC) said they were trying to establish what had happened to him.
"If the French journalist is with the Farc, something we haven't confirmed yet, we are making contacts with all the sides involved in the conflict, and we wish that soon he can be reunited with his family," said Daniel Munoz, ICRC spokesman in the regional capital, Caqueta.
Colombian officials said that troops saw the reporter take off his helmet and military flak jacket, which they had given him, and head towards the rebels after being hit in the arm.
The circumstances surrounding his disappearance have generated debate in Colombia.
"We civilians, including politicians and reporters, should not be wearing military clothing," said Vice-President Angelino Garzon.
He said that both the media and the armed forces should reflect on when a journalist should be present on military operations.
But the Foundation for Press Freedom (FLIP) said the work of journalists was vital to understanding the conflict in Colombia.
"Romeo Langlois' situation shows the difficult conditions and danger in covering topics about the armed conflict," the foundation said.