Brazil and Fifa agree changes to avoid World Cup delays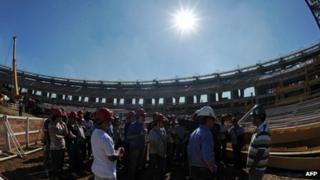 Fifa, football's world governing body, has agreed changes with the Brazilian government to speed up preparations for the 2014 World Cup.
Fifa is concerned that venues will not be ready in time.
A Brazilian government official will join the organising committee to help ensure deadlines are met.
Fifa president Sepp Blatter, who held talks in Zurich with Brazil's Sports Minister Aldo Rebelo, said there was no time to waste.
Mr Blatter said the agreement "marks a new phase in the organisation of the competition."
He explained that from now on Mr Rebelo and Fifa's secretary-general, Jeremy Valcke, would be "the two main elements" in the preparations for the event.
The local organising committee, which was represented at the meeting by World Cup winners players Ronaldo and Bebeto, will now be under scrutiny from Fifa and the sports ministry.
The five-hour meeting in Zurich also appeared to have smoothed over recent differences between Fifa and the Brazilian government.
Some two months ago Mr Valcke said that that Brazil needed a "kick up the backside" and appeared more concerned with winning the World Cup than organising it.
The Brazilian authorities refused to deal with him. Mr Valcke later apologised.
"There is no more dissent, no more problems, everything has been solved," said Mr Blatter.
Rehearsal
Brazil has spent billions refurbishing old stadiums and building new venues for the biggest sporting event in the country's history.
It is also investing in airports and roads.
But analysts say the work is running behind schedule.
Next year Brazil will host the Confederations Cup, a key rehearsal for hosting the World Cup.
The two-week tournament will gather eight of the top teams in world football.
Brazil's biggest and best-known stadium, Maracana, may not be finished in time to host the event's final match 30 June 2013.
Fifa regulations say all venues must be ready by February 2013, four months before the tournament takes place.
Mr Rebelo told Fifa that the venues, including the Maracana, will be finished in time.
Work at the stadium was delayed last year by a strike. Builders complained they were being poorly paid and stopped work for weeks.
The 2014 World Cup will be the first in South America since Argentina hosted the tournament in 1978 and the first in Brazil since 1950.