US blacklists sons of Mexico drug lord Joaquin Guzman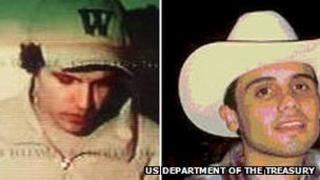 The US treasury department has put two sons of Mexico's most wanted man Joaquin "El Chapo" Guzman on its drugs kingpin blacklist.
The move bars all people in the US from doing business with Ivan Archivaldo Guzman Salazar and Ovidio Guzman Lopez, and freezes any US assets they have.
Joaquin Guzman, on the list since 2001, runs the powerful Sinaloa drug cartel.
Mexico has seen an explosion of violence in recent years as gangs fight for control of trafficking routes.
The US administration "will aggressively target those individuals who facilitate Chapo Guzman's drug trafficking operations, including family members," said Adam Szubin, director of the department's Office of Foreign Assets Control .
"With the Mexican government, we are firm in our resolve to dismantle Chapo Guzman's drug trafficking organisation."
Ovidio Guzman plays a significant role in his father's drug-trafficking activities, the treasury department said.
Ivan Archivaldo Guzman was arrested in 2005 in Mexico on money-laundering charges but subsequently released.
As well as the Guzman brothers, two other alleged key cartel members, Noel Salgueiro Nevarez and Ovidio Limon Sanchez, were listed under the Foreign Narcotics Kingpin Designation Act .
They were both arrested in Mexico in 2011 and are still in custody.
Under the Kingpin Act, US firms, banks and individuals are prevented from doing business with them and any assets the men may have under US jurisdiction are frozen.
More than 1,000 companies and individuals linked to 94 drug kingpins have been placed on the blacklist since 2000.
Penalties for violating the act range include up to 30 years in prison and fines up to $10m (£6m).
The US has offered a reward of up to $5m a for information leading to the arrest of Joaquin Guzman, who escaped from a Mexican prison in 2001.