'I held on tight': How Dominican survived boat sinking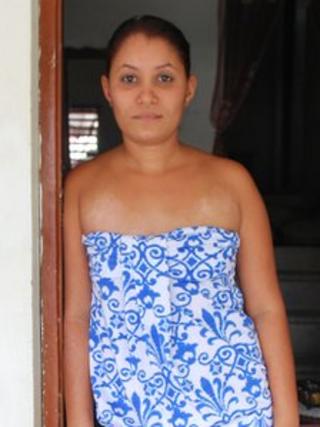 In the early hours of 4 February, a small wood and fibre glass boat capsized in the bay of Samana in the Dominican Republic.
The boat was over-crowded as it attempted to cross illegally to the US territory of Puerto Rico some 250km (155 miles) away.
There should have been no more than 30 people on board but it was packed with some 75 would-be migrants.
Only 13 survived.
Many of the people on the boat came from the town of San Francisco de Macoris, including Maria Sobeida Guzman.
"The waves were strong, very high and the boat bounced up and down. It started to take in water, and we started bailing it out," she says.
Then, she says, a wave hit the front of the boat and broke it.
"We started to sink. People started praying, saying God help me! We were all fighting to get off the boat and to dive into the sea."
She says it took less than a minute for the boat to sink.
'I took my clothes and shoes off and was left in my underwear. Everyone jumped to one side, and I jumped to the other."
She said she survived because she managed to grab a petrol canister.
"I held on tight and never let go. I was fighting to stay alive. There were three men and me on the canister. The boat sank at 5am...and I was found at two in the afternoon.
"I had hypothermia because of the cold. I didn't see who rescued me because I was dying."
Ms Guzman and the other survivors were picked up by fishermen from the town of Sabana de la Mar.
Doctors and nurses went to the beach and started treating the survivors, many of whom had second degree burns because of the contact with petrol, salty water and the sun's rays.
"I'd really never seen a case like this before, with so many deaths and so many people in bad shape," said nurse Angela Pena.
"There were people with really bad burns. I felt disheartened. I felt like they were my people, and that's what really hit me."
The horror continued as bodies washed up on local beaches.
Survivor Maria Sobeida Guzman says her reason for trying to leave the Dominican Republic was simple.
"Here you can't find work. Everything is very expensive, life is very expensive," she says.
The US Coast Guard estimates that 1,000 people attempted the crossing last year, twice as many as the year before. This year, the trend is up again.
Because these trips are illegal and organised by word of mouth, those involved are often reluctant to speak.
Despite this, Robert Justo, the district attorney handling the case, says he is determined to prosecute whoever is involved.
"This case has shaken Dominican society and the world. More than 50 citizens have died. In our country we had never documented a case as big as this one," he says.
"The law says that the organisers and captains of these illegal boats should be penalised. We want this case to be an example. So whoever thinks of smuggling migrants should know that we are on the look-out for them."
So far two men have been arrested. Rey David Cepeda, who is currently on remand in a prison in Samana, is accused of organising the trip and being the captain of the boat.
Mr Cepeda denies the charges, and says he was only a passenger. "I'm innocent of all of that…innocent of this whole thing."
He told the BBC that he had been to Puerto Rico a number of times by boat.
"I've been to Puerto Rico three times. I was deported twice, and the last time I came back because my mother was ill and I wanted to see her.
'Leaving my children'
Some local organisations and a journalist have alleged that these lucrative illegal trips are arranged by the local mafia.
The Attorney General is also investigating allegations that some members of the Navy were involved in the journey.
Navy spokesman Captain Corcino told the BBC that the Navy took the allegations seriously and was co-operating with the investigation.
Despite the risks, stopping people from attempting the trip is hard. Even if the Dominican Republic had the resources to better patrol its 1,200km coastline, the allure of a better life overseas can be overwhelming.
"We are a developing country. And even though in the last eight years, the Dominican Republic has grown at an average annual rate of 7.2%, people's aspirations are beyond that," President Leonel Fernandez told the BBC.
He said some people feel that reaching Puerto Rico or the US would be a solution to their problems. But, he said, illegal migration was not the solution.
"We'll do everything we can to take control of that, and create opportunities within the Dominican Republic."
Survivor Maria Sobeida Guzman says someone needs to be held to account for what happened.
"They should get them and put them in jail. Because lots of people died. Lots of people."
She had planned to leave her three children with her mother while working in Puerto Rico. But now she says she cannot believe she ever thought of leaving them behind.
"I'm never going to do it again," she says. "Never."
Assignment: Migrants of the Caribbean will be broadcast at 0805 GMT on the BBC World Service on Thursday 10 May. Listen back to the programme here or browse the Assignment archive.