Chile's hate crime law passes after seven years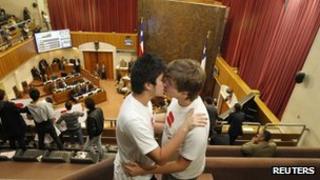 The Chilean Congress has approved an anti-discrimination law that assumed added importance after a gay man was killed earlier this year.
The bill cleared its final hurdle with a 25-3 vote in the Senate.
The brutal assault on Daniel Zamudio in March sparked outrage and a fresh debate about hate crimes in Chile.
After Mr Zamudio's death, President Sebastian Pinera put the bill, which had languished in Congress for seven years, on the fast track to approval.
The bill makes it a crime to discriminate on the basis of race, ethnicity, religion, sexual orientation, gender, appearance or handicap.
There had been opposition from some churches, which argued the law could be the first step towards gay marriage.
"It's an enormous culture change for our country," said Sen Alberto Espina.
"Chile is a country that discriminates a lot for being (indigenous) Mapuche, for being gay, for your nationality, for having disabilities. We have to acknowledge this and not sweep it under the carpet."
Mr Zamudio, 25, was left with severe head injuries and a broken right leg after being attacked on 3 March. Swastika symbols were carved into his body. He died three weeks later.
The four suspects deny attacking him and deny being neo-Nazis.
Prosecutors are seeking murder charges.