Brazil sends 500 troops to help Amazon flood victims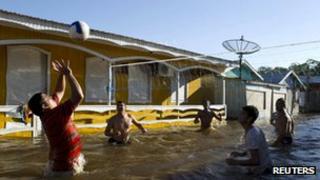 Brazil is deploying 500 troops, a field hospital and three Navy ships to help people hit by some of the worst flooding in decades in the Amazon.
Rivers began overflowing their banks in March and some 70,000 families have so far been left without shelter.
Local officials say dozens of communities are in a critical state as a result of the heavy rains.
The soldiers were already in the Amazon as part of a taskforce against illegal logging and drug trafficking.
They are now being sent to some of the worst-affected areas across the Amazon.
"The troops will carry out three tasks: rescue people from areas at risk, register families who suffered losses because of the floods, and distribute medicine and provisions," said General Jose Carlos De Nardi.
An air force field hospital has been set up on a ferry currently anchored in Barcelos, some 490km (300 miles) from the main city of Manaus.
A navy ship is in Manaus and two other vessels equipped with hospital facilities are stationed further west near the towns of Santo Antonio do Ica and Tefe.
While the Amazon is suffering heavy rainfall, north-east Brazil is gripped by a severe drought.