Farc ambush leaves seven Colombian police dead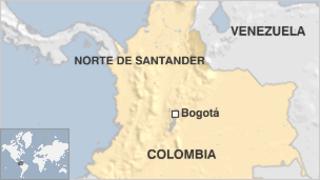 Colombian Farc rebels have killed seven police officers in an ambush close to the Venezuelan border.
A further 14 policemen are reported to have been injured in the attack.
Officials said the rebels attacked the police post in Norte de Santander province early in the morning.
The region has seen frequent attacks, with Farc rebels long using neighbouring Venezuelan territory to hide from the Colombian security forces.
In recent years Colombian government forces have had considerable success against the rebels in the long-running civil conflict, helped by stronger co-operation from Venezuela.
But the BBC correspondent in Bogota says the rebels have been emboldened by political uncertainty in Venezuela, fuelled by the illness of President Hugo Chavez.
He has been treated for cancer over the past year.