Haiti UN rape: Alleged victim in Uruguay court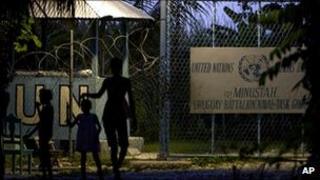 A 19-year-old Haitian man who says he was sexually assaulted by five Uruguayan peacekeepers in Haiti has appeared before a judge in Uruguay.
The man was brought to Montevideo to testify in a closed hearing as part of an investigation into the allegations.
He says he was raped last September by Uruguayan marines serving with the UN peacekeeping force in Haiti.
The case caused public outrage in Haiti, fuelling resentment and protests against the UN mission.
The marines have already spent several months in custody after a Uruguayan military investigation found they had broken regulations.
The civil judge investigating the case will now decide whether they should face a criminal prosecution.
Uruguayan media reports said the Haitian man would be asked to identify his alleged attackers.
The marines are also being questioned by the judge.
Controversy
The alleged assault came to light after a video of the incident filmed on a mobile phone appeared on the internet.
Haitian President Michel Martelly condemned the alleged abuse and there were protests against the UN mission.
Uruguay is one of the main contributors to the 12,000-strong UN force (Minustah), which first arrived in Haiti in 2004.
The peacekeepers were brought in to restore order following the overthrow of President Jean-Bertrand Aristide, and its mandate was extended after the devastating earthquake in January 2010.
But Minustah has also drawn controversy, including allegations of excessive use of force.
In 2010 there were widespread protests after Nepalese peacekeepers were accused of being the source of a cholera epidemic which has killed more than 6,000 Haitians.