Venezuela crossword Chavez assassination plot denied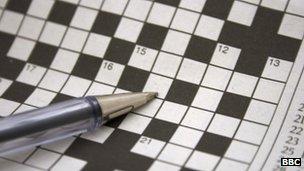 A Venezuelan crossword compiler has been questioned by intelligence agents after being accused of hiding a coded assassination message in a puzzle.
Neptali Segovia denies using his crossword in the Ultimas Noticias newspaper to incite the murder of President Hugo Chavez's brother, Adan.
Answers to clues included the words "kill", "gunfire" and "Adan".
Meanwhile, Hugo Chavez has returned from Cuba, saying he has successfully completed his radiotherapy treatment.
Political tension has been rising in Venezuela ahead of October's presidential election and because of uncertainty over President Chavez's health.
Ultimas Noticias said Mr Segovia went voluntarily to the headquarters of Venezuela's intelligence service after agents came looking for him at the newspaper's office in Caracas.
"I went because no-one is more interested in clarifying this than me," the paper quoted him as saying.
"I have nothing to hide because the work I have been doing for 17 years only has a cultural and educational intention," he added.
Mr Segovia said he had denied the accusation and had been treated respectfully.
The accusation against him was made earlier this week by television pundit Miguel Angel Perez Pirela, who presents a programme on the state channel VTV.
He said a team of psychologists and mathematicians had concluded that the Spanish-language crossword contained a coded assassination plot against President Chavez's brother Adan.
"These sorts of messages were used a lot during World War II," he said, comparing it to secret codes used by the French Resistance.
Correspondents say the story has caused widespread amusement, but also highlights an atmosphere of growing political polarisation in Venezuela.
President Chavez and his supporters have frequently accused opposition groups of plotting violence in the run-up to October's presidential election.
The opposition have in turn accused government supporters of planning to hang on to power by force if Mr Chavez loses the election to challenger Henrique Capriles Radonski or is unable to stand because of ill health.
Adan Chavez is governor of Barinas state and has been named as a possible successor to his brother.
Hugo Chavez said on returning from Cuba late on Friday: "I can tell you that in the last few days we successfully completed the radiation cycle, as planned by the medical team.
"I am very hopeful this treatment will have the effects we hope for."
The Venezuelan president, who has been in power since 1999, has in the past accused his opponents and the US of plotting to assassinate him.
Related Internet Links
The BBC is not responsible for the content of external sites.