Argentina river ship sinks after Paraguayan tug crash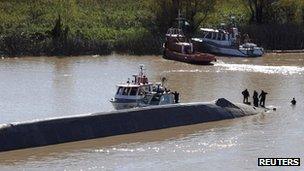 Seven people are missing after an Argentine cargo ship and a Paraguayan tug boat collided on the Parana river, Argentine officials say.
The Argentine ship capsized and sank quickly after the crash. Divers have been searching for the missing men.
Argentine police have detained the Paraguayan captain and two of his crew while they investigate.
The Parana - South America's second longest river - is landlocked Paraguay's only outlet to the sea.
The accident happened in the early hours of Saturday morning near the Argentine town of Zarate.
Argentine officials said the Paraguayan boat Ava Paraguaya appeared to have veered off course, smashing into the Argentine ship.
The cargo vessel was heavily laden with sand and sank quickly.
Officials said it had come to rest on the river bank and did not appear to be leaking fuel.