Colombia's Farc 'will release Romeo Langlois to ICRC'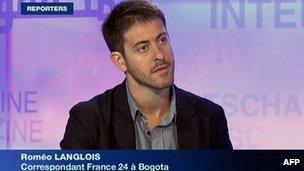 Colombia's Farc rebels have set out terms for the release of French journalist Romeo Langlois, the International Red Cross (ICRC) says.
The rebels said they were prepared to free the reporter to a group including ICRC officials and an envoy of French President-elect, Francois Hollande.
Mr Langlois, 35, was captured on 28 April as he filmed soldiers destroying cocaine laboratories.
The Farc have previously described him as a "prisoner of war".
"We have received the statement directly from the group," the head of the ICRC in Colombia, Jordi Raich, told French news agency AFP.
"We are pleased with the announcement of the release and we are ready to help organise the operation anywhere and as soon as possible," he added.
The Farc statement was also released to the Cuban news agency, Prensa Latina.
The rebels also asked for the involvement of Colombian mediator Piedad Cordoba.
Ms Cordoba and the ICRC have previously facilitated the release of numerous hostages held by the Farc.
In February the left-wing group promised to stop kidnapping civilians for ransom, and last month released its last remaining military and police captives.
However, anti-kidnap groups estimate that it is still holding hundreds of civilian hostages.
The rebels say they consider Mr Langlois a prisoner of war because he was accompanying an army unit and wearing a military helmet and body armour.
His kidnapping has provoked condemnation in Colombia and across the world.
Related Internet Links
The BBC is not responsible for the content of external sites.