Argentine Vice-President Boudou faces enrichment probe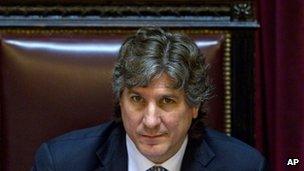 A prosecutor in Argentina is investigating Vice-President Amado Boudou over alleged illegal enrichment.
The inquiry comes after a journalist accused Mr Boudou of influence peddling and illegally profiting from state contracts, which Mr Boudou has denied.
The prosecutor also wants to investigate Mr Boudou's girlfriend and two of his business associates.
A federal judge will have to decide whether to charge Mr Boudou for the case to proceed.
Prosecutor Jorge Di Lello said there was sufficient cause to ask federal judge Ariel Lijo to open an illegal enrichment investigation.
The original allegations were brought by journalist Christian Sanz.
"The scandal surrounding Vice-President Amado Boudou and his links with businessmen who acted as his frontmen in multi-million-dollar deals with the government is turning up more and more surprises every day," Mr Sanz said.
Mr Boudou is already being investigated in connection with a number of allegations ranging from giving illegal handouts to misuse of public funds.
Mr Boudou has denied all the allegations, saying he is the victim of "a media and judicial conspiracy".