Haiti stalemate ends as parliament backs new PM's plans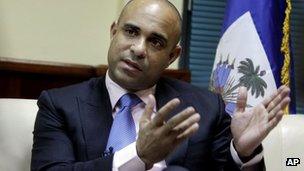 Haiti's new Prime Minister Laurent Lamothe has won the backing of the lower house of parliament for his policies.
Mr Lamothe replaces Garry Conille, who resigned in February amid a power struggle in government.
International donors had voiced concern about the political vacuum.
President Michel Martelly, in office for a year, has overseen some progress in post-earthquake reconstruction but political tensions continue to simmer.
Mr Lamothe was President Martelly's fourth nomination for the post of prime minister over the past year and the second to be ratified.
"I thank the deputies that voted for me, and I look forward to working with those who voted against me or who abstained," Mr Lamothe said, after the lower house voted to approve his policies.
The Senate gave its approval last week.
Mr Lamothe, who will be in charge of the day-to-day running of government, is a close business associate of Mr Martelly.
President Martelly, a former musician, had never held political office before being sworn in on 14 May 2011.
He vowed to rebuild Haiti, the western hemisphere's poorest nation which was devastated by the January 2010 earthquake.
Twelve months on, several of the most visible camps for displaced people in the capital, Port-au-Prince, have been cleared and the locations back to being public squares.
Renovations are being carried out at the international airport and there are some new roads, schools, shops and hotels in the city.
"I would give myself an eight, eight-and-half, a nine (out of 10), because everything I did, I did without a government," Mr Martelly said in a recent interview with the Associated Press.
As well as facing protracted political infighting, Mr Martelly has struggled to disband a group of military veterans who want to see the Haitian army restored.
International donors pledged billions of dollars to help rebuild homes and infrastructure destroyed by the quake that left thousands homeless.
But much of the aid has not materialised, with many agencies adopting a wait-and-see approach amid the ongoing political uncertainty.