Bomb targeting Colombia politician kills at least two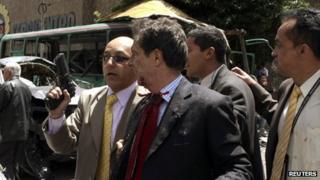 At least two people have been killed in an attack on a politician in the Colombian capital, Bogota.
Police said an unidentified assailant attached an explosive device to the car of former Interior Minister Fernando Londono.
The blast killed his driver and a bodyguard, but Mr Londono, 68, was not seriously injured.
Earlier reports had spoken of five dead, but a Bogota police commander said he could only confirm two deaths.
Around 40 people are reported to have been injured in the blast.
Mr Londono was hit by shrapnel and is having surgery to remove a piece of metal lodged near his clavicle.
Hospital sources said he was in a stable condition.
Rebel connection?
Bogota Police Commander Gen Luis Eduardo Martinez blamed Colombia's largest rebel group, the Farc, for the attack.
The explosion in the north of the city came just hours after police defused a car bomb near the headquarters of the city's police.
Gen Martinez said he could not say whether the two incidents were linked, but insisted that he was certain Farc rebels were behind both.
"What I can confirm with bluntness, with vehemence, and with a lot of sorrow for our fatherland is that behind this are the Farc terrorists, the mad, the unhinged rebels," Gen Martinez said.
Mr Londono, who served as Justice and Interior Minister under the right-wing former President, Alvaro Uribe, has been highly critical of the rebels.
He has repeatedly attacked them during his daily radio programme The Hour of Truth.
Andres Villamizar of Colombia's Interior Ministry said the rebels had made threats against Mr Londono.
The explosive device went off on a corner of 74 Street and Caracas Avenue, in the north of Bogota, just after 11:00 local time (16:00 GMT).
Explosive and forensic experts are examining the scene for clues.
'Immense harm'
Bogota Mayor Gustavo Petro has condemned the attack.
On his Twitter account, he asked all residents of the city to be vigilant and to "mobilise against hate".
Colombian President Juan Manuel Santos asked all Colombians to come together in their rejection of terrorism.
"Terrorism has caused us immense harm," he said after visiting Mr Londono in hospital.
"We're eliminating it, we haven't eliminated it altogether yet, and this attack is proof of that, but we'll continue making progress until we've eradicated it from our country", he said.
Bomb attacks used to be common in Bogota and other Colombian cities more than a decade ago, when Farc rebels were at their strongest.
But such attacks decreased markedly after the president at the time, Alvaro Uribe, made the war against the guerrilla his priority.
The last bomb attack attributed to the Farc in Bogota was in August 2010, shortly after President Santos took office.
There have been several small bombings since then, but it is not clear whether the Farc were behind those.