Two Mexican generals detained over alleged drug links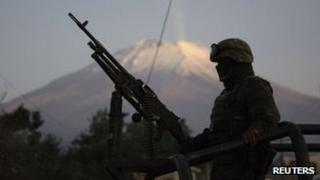 Two Mexican generals have been detained on suspicion of involvement in organised crime, allegations they deny.
Gen Tomas Angeles, who served as Mexico's deputy defence minister, and Gen Roberto Dawe are being questioned over alleged links with a drug cartel.
The army has played a key role in Mexico's war on drugs since President Felipe Calderon deployed it to fight the cartels six years ago.
More than 50,000 people have died in drug-related violence since then.
Gen Angeles was assistant defence minister from 2006 to 2008, when he retired.
Gen Gonzalez led an elite unit in the western state of Colima and is currently working at an army base there.
Officials at the Attorney General Office said the two men were being questioned by Mexico's organised crime unit.
Prosecutors said the generals had not been charged with any wrongdoing, but were "giving their declarations in connection with the investigation carried out by the organised crime unit".
Gen Angeles had been widely tipped as a possible defence minister when he took over the post of deputy defence minister in 2006.
His retirement in 2008 caused surprise among Mexican commentators.