Guatemala ex-leader Rios Montt faces massacre trial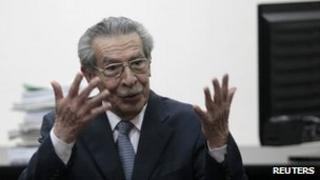 Guatemala's former military leader Efrain Rios Montt is facing a second genocide trial, after a judge ruled that he could be prosecuted over the massacre of 201 villagers in 1982.
Gen Rios Montt, 85, was charged in January on separate counts of genocide and crimes against humanity.
The latest case relates to the killings at Dos Erres, one of the most brutal episodes of the 36-year civil war.
Gen Rios Montt told the hearing he was innocent.
Judge Patricia Flores ruled on Monday there was sufficient evident to try Gen Rios Montt in connection with the massacre in the village of Dos Erres.
The courtroom, packed with victims' relatives and human rights activists, applauded.
Defence lawyers argued Gen Rios Montt was not present during the killings and therefore could not be held accountable.
Prosecutors alleged he had authorised the military operation.
A special unit of the Guatemalan army known as the Kaibiles stormed Dos Erres where they suspected residents were supporting or sheltering left-wing guerrillas.
Over three days, the soldiers systematically killed hundreds of men, women and children, shooting or bludgeoning them to death and throwing bodies down a well.
Five former soldiers have already been given long sentences for the Dos Erres massacre.
Immunity
Asked if he had anything to say, Gen Rios Montt told the hearing: "It is under military law, your honour, that I declare that I am innocent."
As a congressman, he had enjoyed immunity from prosecution for 12 years. The immunity was lifted on 14 January 2012, when his term in office ran out.
Shortly afterwards, he was charged in connection with the massacres of 1,771 indigenous Mayans and forced displacement of 29,000 others.
An estimated 200,000 people were killed or went missing during Guatemala's civil conflict, which ended in 1996.
Gen Rios Montt's 17 months in power, from 1982-1983, are believed to have been one of the most violent periods of the war.
He is currently under house arrest.