Dominican Republic vote: Hipolito Mejia decries result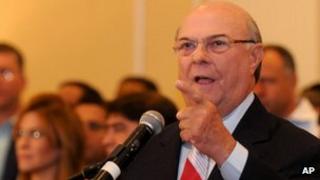 Opposition candidate Hipolito Mejia has attacked the results of the Dominican Republic's presidential election, vowing to work for electoral reform.
But Mr Mejia, a former president, appeared to concede, saying he assumed his role as leader of the opposition.
Official results from Sunday's poll gave victory to Danilo Medina from the governing party by 51% to 47%.
Election observers said there were isolated cases of vote-buying but these did not affect the overall result.
Mr Medina, who succeeds President Leonel Fernandez, said he would be a leader for all Dominicans.
His running mate was Margarita Cedeno, Mr Fernandez's wife and the current First Lady.
Mr Fernandez, who has overseen one of the Caribbean's fastest-growing economies, was barred from standing for a third consecutive term.
Speaking on Tuesday, Mr Mejia said the election outcome was "the product of manipulation and an abuse of power", referring to alleged use of government resources to influence voters.
But Mr Mejia, president himself from 2000 to 2004, appeared to concede.
"I am assuming my role as leader of the opposition in the national interest, to preserve the peace and tranquillity of the Dominican family," he said.
Rising crime, unemployment and inflation in the Caribbean country were the main issues of the campaign.
Opinion polls had suggested a tight race, with the outcome possibly decided by the ballots cast by Dominicans in the United States.
The Dominican Republic is one of the most popular tourist destinations in the Caribbean, and the economy has been growing steadily, at about 4.5% a year.
But more than 30% of its 10 million citizens still live below the poverty line.