Cuban surrealist Wifredo Lam fetches record price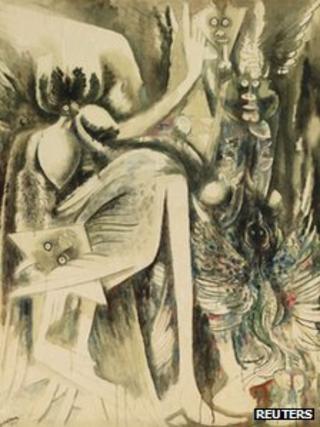 A painting by Cuban surrealist artist Wifredo Lam fetched a record personal price at a Latin American art sale at auctioneers Sotheby's in New York.
An unnamed South American collector paid $4.5m (£2.9m) for Lam's 1944 Idol (Oya/Divinite de l'Air et de la mort), well above the $2m-3m guide price.
Demand was also high for Venezuelan artists, such as Armando Reveron.
But Diego Rivera's 1939 painting Girl in Blue and White, considered the main attraction, remained unsold.
The work by the Mexican artist had been expected to sell at a price between $4m and $6m.
In contrast, Lam's piece, which had been in private hands since 1947, sold for more than double the previous top price for his paintings.
Lam, who died in 1982, was of mixed race heritage. His father was Chinese and his mother was of African, European and indigenous Cuban descent.
He was heavily influenced both by surrealism and by santeria, an Afro-Caribbean religion based on Yoruba and Roman Catholic beliefs.
Wednesday's auction, with sales totalling $21.8m, was Sotheby's best result for an evening sale of Latin American art to date.
It follows a similar sale at Christie's, another auction house, on Tuesday that set 33 individual records for artists from the region, with total sales of $27.7m.
Correction: 28 May Clarifying reference to Lam's ethnic heritage