Argentina revokes crash train operator's concession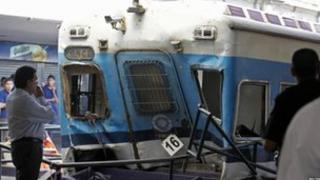 The Argentine government is revoking a railway company's right to operate because of a train crash in February.
Fifty-one people were killed and more than 700 injured when the commuter train slammed into the buffers as it came into the station in Buenos Aires.
Planning minister Julio De Vido said the company, Trenes de Buenos Aires, would no longer be allowed to operate its commuter routes in the capital.
A criminal investigation into the causes of the crash is still under way.
The government decreed that Trenes de Buenos Aires (TBA) no longer be allowed to operate the Sarmiento line, where the accident occurred.
It also banned TBA from operating a second commuter line, Mitre, which it had also been running.
Ongoing investigation
Mr De Vido said TBA had failed to adequately maintain its trains.
But the minister stressed that the decision was "administrative" and did not form part of the criminal investigation against the company.
He said that until further notice, TBA's trains would be operated by officials from two other rail companies.
TBA was granted the concession to run the Sarmiento and the Mitre lines in 1995 as part of railway privatisation during the presidency of Carlos Menem.
The crash in February was Argentina's worst since 1970, when a train smashed into another at full speed in suburban Buenos Aires, killing 200 people.