Colombia's Farc rebels to free Frenchman on Wednesday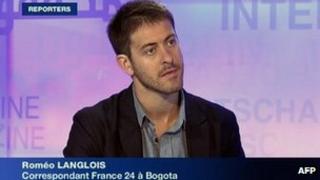 Colombia's left-wing Farc rebels say they will release the French journalist Romeo Langlois they are holding on Wednesday.
In a statement, the Farc said it would hand over Mr Langlois to an international committee that has been negotiating his release.
He was captured by rebels on 28 April during an army anti-drugs operation in the jungles of southern Colombia.
Mr Langlois, 35, has been reporting from Colombia for over a decade.
He was on an assignment for international broadcaster France 24, filming soldiers destroying cocaine laboratories in the Caqueta region.
The army said he was injured in the arm when the group came under attack and ran towards the rebels.
The Farc later described him as a "prisoner of war", because he was wearing military uniform, body armour and accompanying an army unit.
Security arrangements
In their latest statement, the rebels say Mr Langlois will be handed over to a delegation from the International Committee of the Red Cross, a French government envoy and a peace group led by former Colombian senator Piedad Cordoba.
"The co-ordinates of the location where Langlois will be freed will be submitted at an opportune time."
The rebels say they are negotiating final details for the release, including safety guarantees.
Correspondents say the Colombian army forces usually cease all operations in the region where hostages are being released.
In February, the left-wing group promised to stop kidnapping civilians for ransom, and last month released its last remaining military and police captives.
However, anti-kidnap groups estimate that it is still holding hundreds of civilian hostages.