Peru: Espinar protest mayor in 'preventative' detention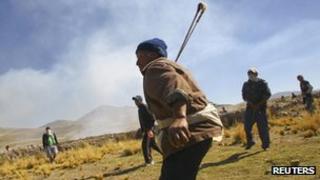 A Peruvian judge has ordered a mayor accused of inciting anti-mining protests to be held in "preventative" detention for up to five months.
Two people died and many dozens were injured in Monday's protests in Espinar against the expansion of a copper mine run by Swiss company Xstrata.
Oscar Mollohuanca rejects accusations he incited violence and used public funds to pay for the protest.
He has not been charged, but is being held because he is a flight risk.
Following the protest, Mr Mollohuanca was reported to have gone into hiding to evade detention - but he denies doing so.
He was arrested on Wednesday and a judge has now decided to keep him in "preventative" custody for up to five months while the accusations against him are investigated.
State of emergency
Mr Mollohuanca dismisses his detention as politically motivated, saying it was "surely handed down because of pressure from above, because what we have here at play are big interests from, for example, mining companies".
Last week's protests were triggered in part by anger over the amount of royalties the mine proposed to pay the local government.
The clashes prompted Peru's government to restrict civil liberties in a month-long state of emergency, says the BBC's Mattia Cabitza in Lima.
The police have been criticised for opening fire on the demonstrators, but the government in Lima says that dialogue is not possible with what it calls radical extremists, our correspondent adds.