Brazil's Inhotim park celebrates giant art amid nature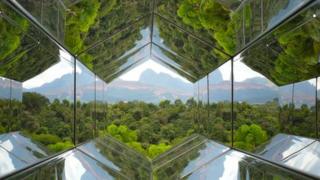 Bernardo Paz gets irritated when he is described as an "eccentric millionaire", something which happens a lot in Brazil when the subject of his large contemporary art collection comes up.
"It's really annoying to have to answer this kind of question. So, if what I do is eccentric, what would you call only accumulating billions and billions, as other people do?" he asks defensively.
"What I am doing is investing in art and giving something back to society. If that's eccentric, then I am proud of being so."
What some consider eccentric is the mining magnate's decision to use his substantial wealth to create a gigantic open-air contemporary collection on his land, some 60km (37 miles) from the city of Belo Horizonte.
With a population of more than two million, Belo Horizonte is a large state capital, but it does not have the cultural profile of Brazil's two biggest cities, Sao Paulo and Rio de Janeiro.
But Mr Paz's art complex, known as Inhotim, has become a playground for creativity, especially for artists who want to experiment on a grand scale.
The project is vast, spread over 100 hectares (250 acres).
"We are quite privileged to work in a rather large area, so we can invite artists to come and wander with us around the hills, forests and lakes on Inhotim to find the perfect spot for their work," says artistic director Jochen Volz.
He joined the project as curator in 2004, when the area was in the process of being transformed from Bernardo Paz's private garden into a showcase for the arts.
Last year more than 300,000 people travelled to the small town of Brumadinho to visit the collection, the only significant attraction in the area.
One day hardly seems enough to enjoy Inhotim, as the landscape is just as important as the artworks.
The park has electric golf carts for those unable - or unwilling - to walk, but wandering around on foot is the best way to explore.
Paths lead up and down hills surrounded by lush tropical vegetation, and the large installations and galleries follow a careful design set out in the original landscaping project.
As a visitor tours Inhotim, the 20 galleries and the 23 major stand-alone open-air works - some concealed by forest or the undulating land - appear one after another.
Sited on Inhotim's highest spot is one of the best-known: Doug Aitken's Sonic Pavilion.
'Sounds of the earth'
The large circular glass building has at its centre a cavity some 30cm (12in) wide and 200m (660ft) deep.
Inside the hole five hyper-sensitive microphones hang from different heights to capture "the sounds of the earth."
"It's a weird sound: some days it sound more violent and then other days it's mellow, or rhythmic, or monotone," says Mr Volz. "And we don't really know where it comes from."
Mr Paz, who puts more than $60m (£38m) a year into the park, has big plans to ensure that his project survives him.
The businessman, who made his fortune from mining, certainly has the resources to pursue his passion.
Mr Paz's investment accounts for about 70% of Inhotim's funding, with the rest coming from several sponsors, the entrance fees (the day pass costs about $20), and services such as catering and renting the electric buggies.
Mr Volz's hope is to make Inhotim self-sustainable in the long run.
"We need to think of an infrastructure that will allow people to stay here for longer and at the same time will generate funds for Inhotim.
"We already have restaurants in the park. Now we are already building our first hotel, and we have plans for shops in the future," he says.
Mr Paz once referred to Inhotim as a future "art Disneyworld", a vision that prompted fears of excessive commercialism, something that the collection's curator is quick to dismiss.
"Of course there are risks in growth, but we are careful about this. And we can also count on the help of the artists themselves to help us to discover how to develop Inhotim without losing what it is today," Mr Volz says.
As for Bernardo Paz, he insists that the creation of Inhotim had more to do with his love of gardens than of art.
"I don't know much about art, really, but I am moved by beauty," he says.
It is beauty at a price, but one that he seems prepared to pay.