Construction company challenges Florida anti-Cuba law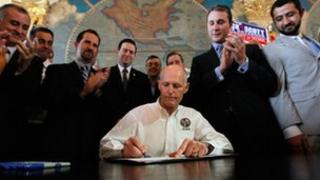 The US subsidiary of Brazilian construction firm Odebrecht has filed a lawsuit in Florida over anti-Cuban legislation.
The Florida law bans local authorities from hiring companies that do business in Cuba or Syria.
Republican Governor Rick Scott says taxpayers' money should not be used to support dictatorships.
Odebrecht USA argues the law is unconstitutional as it sets foreign policy.
Its lawsuit says it is up to the federal government to approve laws dealing with foreign affairs.
The Florida legislation was signed last month and is due to come into effect on 1 July.
It has wide support among Republican politicians in Florida, particularly those representing the large Cuban-American population in Miami.
Odebrecht is a large company with operations in more than 20 countries, including Cuba, where it is working on a major development of the Port of Mariel, near Havana.
But its US subsidiary, based in Florida, says it has never engaged in any business in Cuba.
"We filed suit against the Florida Department of Transportation simply to defend our right to serve the State of Florida and its local governments," a company statement said.
Odebrecht is specifically suing Ananth Prasad, Florida's Secretary of Transportation.