Chavez 'to register on Monday' for Venezuelan election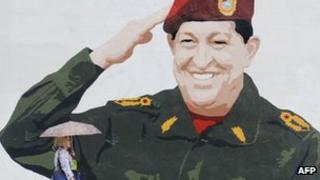 Venezuelan President Hugo Chavez will register on Monday to take part in October's presidential election, his campaign manager has said.
Jorge Rodriguez said Mr Chavez would go in person to the electoral office on what is the final day for registration.
The announcement follows speculation about the health of Mr Chavez, 57, who was diagnosed with cancer last year.
His opponent, former state governor Henrique Capriles, 39, plans to formalise his candidacy on Sunday.
Mr Chavez, who will be running for a third term as president, has kept a low profile since returning from cancer treatment in Cuba on 12 May.
The BBC's Sarah Grainger in Caracas says there had been speculation that the president might complete his registration using the internet to avoid having to make a public appearance.
But Mr Rodriguez said President Chavez would attend in person.
"I have no doubt that a huge sea of people will be there [at the electoral office] to register our candidate," he said.
Mr Chavez was first elected in 1999. He said he was determined to run for another six-year term despite his recent health problems.
Mr Capriles plans to lead his supporters in a march to the National Electoral Council on Sunday where he will register his candidacy for the 7 October election.