Brazil's 'Valentine's Day' threatened by crime wave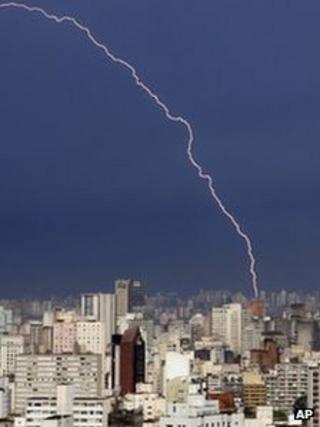 Brazilian authorities have deployed hundreds of extra police officers in the streets of the largest city, Sao Paulo, as Brazilians celebrate their version of Valentine's Day.
The measure was announced by state governor Geraldo Alckmin after a series of robberies in bars and restaurants largely in wealthier areas of the city.
Armed gangs typically enter bars and restaurants and rob clients.
Police say at least 16 such robberies have taken place this year.
They take money, jewellery, mobile phones and credit cards and leave before the police arrive, in an action that has become known as "arrastao", Portuguese for trawling.
The frequency of the robberies and the boldness of the criminals have created anxiety among bar and restaurant owners who fear the impact on their businesses.
Sao Paulo's security secretary Antonio Ferreira Pinto says gangs that used to specialise in kidnappings and robberies at cashpoint machines have changed their focus to attacking customers at bars and restaurants.
Governor Alckmin announced on Tuesday that 390 extra policemen will join some 3,500 officers already on duty.
Almost 300 extra patrol vehicles will also be deployed in the streets of Sao Paulo, a vast urban sprawl with a population of nearly 20 million people.
The security scheme is due to be put in place on other busy dates, such as Father's and Mother's Day and Good Friday.
Brazilians celebrate their version of Valentine's Day on 12 June, the eve of St Anthony's Day, who is traditionally believed to help women find a husband.