Fifa ex-official Jack Warner is Trinidad security chief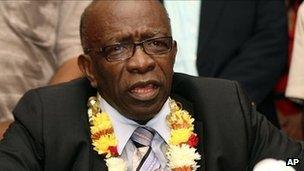 Former Fifa vice-president Jack Warner has become national security minister in his native Trinidad and Tobago.
The appointment comes a year after Mr Warner resigned from the world football body after widespread allegations of corruption against him.
Trinidad Prime Minister Kamla Persad-Bissessar said he was a man of action who would be useful in the fight against crime.
Mr Warner was the longest serving member of Fifa's executive committee.
He also dominated Caribbean football for more than three decades.
He previously held the post of minister of works in the government.
Mr Warner resigned from Fifa following allegations that he and fellow Fifa member Mohamed Bin Hammam had paid million-dollar bribes to Caribbean football associations.
However, the former vice-president described the giving of gifts in Fifa as normal practice and accused those who had made the allegations of hypocrisy.