Bolivia deploys army to patrol streets as police strike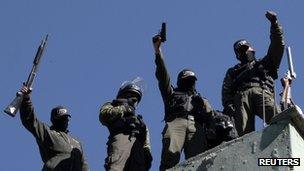 The Bolivian government has deployed the army to patrol the streets as police across the country continue to strike in protest at low pay.
The protests turned violent on Thursday when officers seized control of a police barracks in the city of La Paz.
Communications Minister Amanda Davila said striking officers had been "setting the scene for a coup".
Talks between the government and striking officers stalled early on Saturday with no agreement in sight.
Ms Davila said the officers were stockpiling weapons and pressuring other units to turn over their guns.
"Press reports and intelligence reports are now saying that a coup scenario is taking shape," she said.
But the striking officers said they had no interest in overthrowing Bolivia's left-wing President Evo Morales.
They insisted they were only interested in reaching an agreement on higher pay.
The officers, who earn on average between $150 (£96) and $200 (£128) per month, are demanding salaries on par with soldiers of the same rank.
They rejected the government offer of a 7% pay increase this year.
Defence Minister Ruben Saavedra said troops would protect private property and ensure public order while the officers remained on strike.
The violence began on Thursday, when a group of police and their wives seized control of an elite police unit and expelled their superiors.
Other officers joined the protest on Friday in major Bolivian cities such as Santa Cruz, Cochabamba and Oruro.
Some 300 police attacked the National Intelligence Directorate on Friday, destroying documents and computers.
Two meetings between the protesters and Interior Minister Carlos Romero have ended without agreement.
Mr Romero said some progress had been made, but protest leader Edgar Ramos said the officers would not be content "with being thrown some crumbs".
Related Internet Links
The BBC is not responsible for the content of external sites.