Bolivia police protests continue after deal is rejected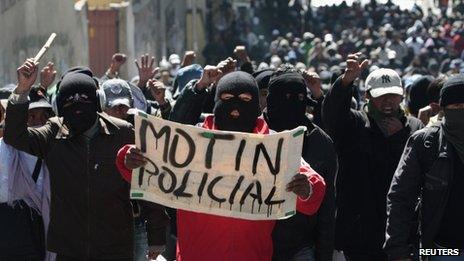 Police in Bolivia, who have been on strike in protest at low pay, have rejected a deal their representative struck with the government.
The officers burned the document their negotiator had signed after all-night talks with the Interior Minister and said they would elect new leaders.
They demand their pay be raised to equal that of soldiers of the same rank.
The government has accused the officers of setting the scene for a coup.
The police protests turned violent on Thursday when a group of officers and their wives seized control of an elite police unit in Bolivia's main city, La Paz, and expelled their superiors.
Other officers joined the protest on Friday in other major Bolivian cities such as Santa Cruz, Cochabamba and Oruro.
After rejecting the pay deal, officers in La Paz took their protest to city's central square, Plaza Murillo.
Officers on strike in Cochabamba, Oruro and Tarija also rejected the deal, while those in Santa Cruz are reportedly still debating whether to accept it.
Related Internet Links
The BBC is not responsible for the content of external sites.