Bolivia police in new clashes over pay demands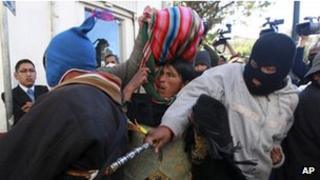 Bolivian police officers, who are on strike over low pay, have clashed with supporters of President Evo Morales in Bolivia's main city, La Paz.
About 500 government supporters marched to the city's main square, where 1,000 police had rallied to demand a salary increase.
The officers used tear gas to drive back the government supporters.
Mr Morales has accused the police of setting the stage for a coup, saying that their motives are political.
The officers, most of them wearing ski masks and civilian clothes, forced the supporters of Mr Morales from Plaza Murillo.
The president's supporters, a mixed group including farmers, indigenous people and members of left-wing groups, said the police had overreacted.
"Our march was peaceful but we were dispersed with gases and sticks," leader of the Farmers Federation Roberto Coraite said.
"The rebel police aren't fighting for salaries, this is political," he said.
On Sunday, the officers rejected a deal their representatives struck with the government saying that it did not meet their demands.
They want their pay to be raised to equal that of soldiers of the same rank.
Rank-and-file officers in La Paz denounced their leaders for "caving in" and promised to continue their protest.
Police in the cities of Cochabamba, Oruro and Tarija also rejected the deal.
President Morales said his right-wing opponents had stirred up discontent in the police to drive him from office.
Communication Minister Amanda Davila said the president was determined "to achieve a solution through democratic means, avoiding any bloodshed".
Evo Morales was elected in 2005 as Bolivia's first indigenous leader.
He was re-elected five years later, but his support has recently declined following a number of protests over low salaries and the rising cost of living.