Bolivian police end strike after agreeing pay deal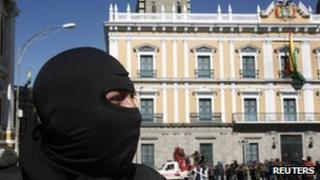 Police in Bolivia have ended their strike over low pay.
Officers in eight regions signed the pay deal, under which their salaries will reportedly be raised by 20%.
The police protests turned violent last week, when officers seized control of a number of police stations.
The government accused them of setting the stage for a coup and deployed the army to take over policing duties, but the officers insisted they only wanted their pay to equal that of soldiers.
On Sunday, rank-and-file officers rejected an earlier pay deal which their representatives had struck with the government.
They elected new leaders who struck a new agreement with the government under which their minimum salaries will be raised by 100 bolivianos ($14; £9) a month.
Interior Minister Carlos Romero said the officer's food allowance would also be increased, raising their total income by 22%.
The protesters have started to leave the police barracks they seized, and officials said many had already returned to their duties.