Mexican Navy locates helicopter crash site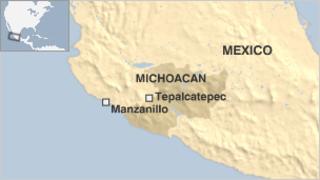 The Mexican Navy says it has located the wreckage of one of its helicopters that disappeared last Friday over an area where drug cartels are active.
The crash site is on a mountain in the western state of Jalisco, close to the border with Michoacan, officials said.
It is believed none of the four crew survived. The cause of the crash is not yet clear.
Contact was lost with the helicopter as it flew over Michoacan, stronghold of the Knights Templar drug gang.
There have been 28 attacks on helicopters since the government declared war on the cartels in 2005.
The navy said the Panther helicopter had taken off from Manzanillo on the Pacific Coast on Friday, and lost contact 35 minutes later.
Mexico's President Felipe Calderon deployed the military six years ago to help fight Mexico's drug gangs.
The navy has since become a target for the country's powerful drug cartels, which are often better armed than the security forces.